Slow Strain Rate (Stress Corrosion) Test Machine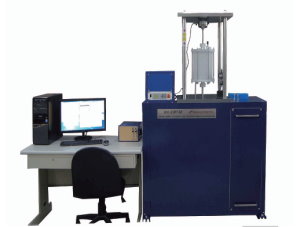 Description
Established in 1997, Advance Instrument Inc (AI) strives to develop, maintain, and produce highly specialized and technically advanced measuring instruments and systems for the expanding needs of the measurement industry. As a company, AI provides the highest levels of customer support, emphasizing the ability to react quickly to customer's needs and requirements from the beginning of a project until final completion.
AI is today one of the leading developer and provider of loading devices for research and studies of materials under Slow Strain Rate (Stress Corrosion) tests. This device is design for studies of materials' corrosion, fatigue, tensile, load and creep test under normal temperature, atmospheric pressure, high temperature and pressure condition.
Corrosive test cnntainers used by AI includes AISA316 stainless steel, HASTELLOY C-276 ALLOY, Inconel Alloy, PTFE or PVDF. These containers' do support high strength or supercritical H2S corrosive environmental experiment.
AI's slow strain rate stress corrosion testing systems is capable of meeting wide array of test experiments. Its system components include - main host machine, environmental vessel, control and auxiliary equipment. These devices utilize mechanical and electrochemical corrosion testing technology, thus is applicable for various load variations, temperature, pressure, tensile rate and environmental conditions.
AI have many years of experience in the design and manufacture of SSRT slow tensile stress corrosion testing system and corrosion fatigue testing systems.
Test Machine:
Slow strain rate stress corrosion test machine ensures test accuracy of slow strain velocity
and flexibility effect. Design constructed in two type: Floor stand and Desktop. Load speed
range is in between 1 x 10-1 ~ 5 x 10-9 mm / s, with maximum load capacity up to 50kN.
To assure the highest degree of accuracy on test results, the system is designed with
a heavy-duty test stand for reducing system distortion, while ensuring accurate load and
drive mechanism, thereby providing a constant tensile rate. Floor stand designed with an
environmental vessel provides optimum workspace flexibility and has good permeability.
Displacement control:
Driven by high performance and accurate displacement control motor, AI displacement
control system is comes with an easy-to-use software and displacement unit providing users with all the required functions.
Measurement and control system: Simple measurement procedure which coordinates displacement movement and measurement together. Advanced software and hardware features make the system capable of completing a variety of unique displacement movement and simultanouss measuring.
Micro-displacement system stepper motor: AI none gap micro-step drive mechanism enhance the level of the test system resolution. Each full step is divided into micro-steps to produce precise magnetic balance through adjustment coil's electric current. Through microdisplacement of each test cycle producing a multiple number of steps increases, thus greatly enhancing the displacement of the resolution .

Environmental chamber
AI offers an environment chamber for testing on normal room temperature-normal pressure to high temperature-high pressure at 30MPa, 600 ℃ . This high temperature-high pressure vessels are designed by AI for tensile test at high temperature and high pressure conditions requirements.
High temperature-high pressure vessels is comparable for use with AI stress ring, slow strain stress corrosion and corrosion fatigue testing machine.
Unique high temperature-high pressure vessels and pressure balancing devices provides users with a dynamic seal system, allowing stress and fatigue tests be carried out in a fully simulated corrosive environment.
Standard high-temperature chambers are made of 316 stainless steel. In application for more severe corrosive environments, AI also provides vessels made of C-276 Hastelloy, Inconel, Monel, and titanium, and other materials. Test conditions can make up 30MPa, 600 ℃ . For security, the chamber is designed with a metal locking ring and bolts.
Alloy tube is used to connect the environment chamber to the control panel, it can precisely control the feed-in and clearing of the test gas. The experimental temperature control system is controlled by an external heater through the computer.
Under normal environment application, the container may use heat-resistant glass, acid PTFE or PVDF, it is suitable from room temperature to 100 ℃ corrosion test temperature range.

All containers have electrochemical test system installation port, allowing simultaneous
electrochemical and strain or fatigue test.
WINDOWS9X / NT / XP / 7 supported measuring and control system.
Measurement and control computing system developed by the AI. We offer the most advanced closed-loop control software of corrosion laboratories, test frame and hightemperature pressure vessel measurement and control systems around the world.
AI's instrument interface comes with a micro-step-motor drive control unit, load cell / LVDT signal modulator, the autoclave temperature control, surveillance systems and ACPD / DCPD measurement system.
Innovative and new technology on SSRT slow strain rate and CF corrosion fatigue testing machine have already put AI into the leading player in the field of corrosion test equipment
ACPD / DCPD Crack Growth Rate Automatic Measuring System

Upon test on slow tensile stress corrosion and corrosive fatigue tests, constant measurement of the crack growth rate is very important.

A-ACPD / DCPD provide AC and / or DC potentiometer method steering crack measuring system to provide accurate and convenient solution for the slow stretching and corrosion fatigue tests.
The potential amount of the host system, feedback coupling device, IEEE communications card and measurement software and other components.
Automatic measurement of crack growth rate at the maximum operating temperature and pressure conditions of the test machine environment chamber allowed, the maximum measurement accuracy can reach 0.1mm. Built-in typical measurement interval with open free setting, users can set up according to the actual application requirements.
Due to configurations with dissolved oxygen, conductivity and pH measurement systems, test personnel may use corrosive chemical indicators of the precise quantitative measurements, to achieve

corrosion medium on the corrosion properties of accurate quantification.
High temperature-high pressure electrochemical system Electrode reference of high temperature-high pressure: Patent through electrode chamber and electrode.
Depending on different experiment conditions, electrode chamber made of stainless steel, C276, and other materials can be be use. While chamber that is equipped with water cooling system is capable of doing more stable experiments on high temperature electrochemical test. Electrodes are made of Ag-AgCl, or insulated Zr-ZrO2. Electrode highest operating temperature, 300 ℃ ; maximum pressure 15MPa

Features
AI's slow strain rate stress corrosion testing systems is capable of meeting wide array of test experiments. Its system components include - main host machine, environmental vessel, control and auxiliary equipment. These devices utilize mechanical and electrochemical corrosion testing technology, thus is applicable for various load variations, temperature, pressure, tensile rate and environmental conditions.
AI have many years of experience in the design and manufacture of SSRT slow tensile stress corrosion testing system and corrosion fatigue testing systems.
Test Machine:
Slow strain rate stress corrosion test machine ensures test accuracy of slow strain velocity and flexibility effect. Design constructed in two type: Floor stand and Desktop. Load speed range is in between 1 x 10-1 ~ 5 x 10-9 mm / s, with maximum load capacity up to 50kN.
To assure the highest degree of accuracy on test results, the system is designed with
a heavy-duty test stand for reducing system distortion, while ensuring accurate load and
drive mechanism, thereby providing a constant tensile rate. Floor stand designed with an
environmental vessel provides optimum workspace flexibility and has good permeability.
Displacement control:
Driven by high performance and accurate displacement control motor, AI displacement
control system is comes with an easy-to-use software and displacement unit providing users with all the required functions.
Measurement and control system: Simple measurement procedure which coordinates
displacement movement and measurement together. Advanced software and hardware features make the system capable of completing a variety of unique displacement movement and simultanouss measuring.
Micro-displacement system stepper motor: AI none gap micro-step drive mechanism
enhance the level of the test system resolution. Each full step is divided into micro-steps to produce precise magnetic balance through adjustment coil's electric current. Through microdisplacement of each test cycle producing a multiple number of steps increases, thus greatly enhancing the displacement of the resolution.


Downloads